Contacts with LRDG vets, relatives and friends
This page was last updated on 07/30/06
Some pictures are thumbnails so click on them to see full size.
Return to LRDG Home Page
Feel free to email Jack WWII LRDG photos and contact information.
---
Friends, Relatives etc.
I get a lot of e-mail from people that either tell me their relatives were in the LRDG or served with them in some capacity. This is one of the stories that I feel is worth sharing with other LRDG enthusiasts.
Everyone that is familiar with the LRDG, knows that they had two Waco aircraft, and that the RAF was not excited about them having them and providing Roundels or being responsible for the maintenance on the aircraft.
In April of 1941 the LRDG HQ moved into Kufra Oasis as their advance base. Their Waco aircraft had been purchased in late March but were not ready until May, as the LRDG had to find a private contractor to make them air-worthy. To support air activities in and around Kufra the RAF, at the end of June, provided three Lysanders and three Gladiators along with pilots and staff to maintain them.
One of the staff, with the 6 Squadron A Flight, was a mechanic by the name of James "Jock" Dunn. Now the story he told, his son Paul, is that he was stationed at Kufra at the same time as the LRDG Waco Aircraft and provided some sort of mechanical assistance for the Wacos. For his service he was presented with the traditional desert head covering (keffiyeh) as worn by the LRDG Troopers (see photo) and some cigarettes and rum, personally, by Guy Prendergast.
I unfortunately we do not have any of the details as to what type of services he provided but I think it still makes a good story. His son has provided me with the photos.
Jack
---
Unknown trooper
Does anyone reconize this trooper?
This photo was found among papers that belonged to Vladimir Peniakoff (Popski), I got it from Guy Harris. I have checked with Brendan O'Carroll his comments follow.....
"He has the rugged good looks of a NZer with possibly a bit of Maori in him. The only NZ LRDG who would fit that description, and have a connection with Popski would be David Warbrick of T Patrol. He drove the only surviving truck carrying the wounded (including Popski) after the Barce Raid. Warbrick is mentioned with praise in Popski's PPA book. I don't have a photo Warbrick, so it is only guesswork on my part."
---
Help needed!
There are 3 names on the back of this photo sent from New Zealand. Trooper on the far left is "Douglas Munro" (identified by Brendan O'Carroll). I assume that the photo belonged to him as his name is not on the back of the photo. Next from the left is either "Ron Davies" or "R.K. Rodgers". Third from the left is "C. B. McKenzie" (identified by Brendan O'Carroll). Then far right is again either "Ron Davies" or "R.K. Rodgers". I would like to id who is who of the other two "Ron Davies and R.K.Rodgers". As it is not clear on the back of the photo.
Any help from the inter-net sources would be appreciated.
---
They know who is on the left - but they don't know the trooper on the right.
Source Marjorie Springford
The LRDG trooper has been identified. His name is "Zoo" Sullivan and he was David Lloyd Owen's driver at the time when DLO was wounded at Kufra in Sept 1942.
---
Photo of Merlyn Craw
---
Some new photos (click the photos to see the full size picture). Still don't know who the trooper is in the first photo (far left), but there's a story about a "pet gazelle" as told by Bill Johnson in the "Sting of the Scorpion" on pages 99 - 100. Second pic is Bill Johnson out in the "blue". Next is Bill Johnson (far Left) with his truck crew and the last photo is also Bill, who served as a chief fitter with both R & S Patrols.
---

Alf Withers was in charge of Y Patrols Bofors 37mm - he may be in this photo.
Source Marjorie Springford
---

"Trooper Brian Springford - 1941 - Y Patrol"
Vehicle name is "Tipperary Tim"
Source his widow Marjorie Springford
Courtesy Ian Chard (son of Harry Chard - LRDG).
---
A photo of a "Young Jimmy Patch"
Gunner then a Navigator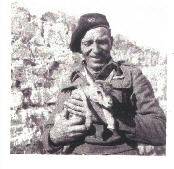 Unknown LRDG Trooper with baby Gazelle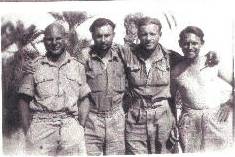 A group of Y Patrol Troopers
Left to Right
"Graham,Hutchinson, Harry Harrison &
Alan Denniff"
---
----- Original Message -----
From: Elizabeth Abbott <mailto:Elizabeth.Mark@btinternet.com>
To: Jack <mailto:LRDG@prodigy.net> Valenti
Sent: Sunday, April 29, 2001 9:06 AM
Subject: Photographs
Dear Mr Valenti,
About a month ago a wrote to you seeking advice on my reseach regarding my Grandfather, who I am told, served with the LRDG. The quest continues, however I have managed to obtain 4 photographs of my Grandfather taken in Africa. I was hoping you could reproduce them on your site in case anyone recognises him. Private George William Wakefield originaly with the Royal Lincolnshire Regiment, served in the BEF before travelling to North Africa as part of the 8th Army.
Many thanks,
Mark J Abbott
---
----- Original Message -----
From: John <mailto:john@kate43.fsnet.co.uk> Brown
To: Jack <mailto:LRDG@prodigy.net> Valenti
Sent: Friday, April 27, 2001 10:31 AM
Subject: My Father Joseph Edward Brown was born in Eastleigh
Jack, Can you please put this page on your site for me.
Thank you, John.
My Father Joseph Edward Brown was born in Eastleigh, Hampshire. He married my mom and moved to Hillingdon, Uxbridge, Middlesex. At the outbreak of World War 2 He joined the signals. He then went into 5 commando and from there to the LRDG. When they disbanded he joined the SAS. He served in Libya Italy Greece and the Balkans I have since found out he served in Western Europe as well, I have found it very difficult to get any information about him as sadly he passed away some years ago. The information I have got has come through my own family and the special forces website run by Jack Valenti in America. I have managed to get some photos together of my dad during the war, and I am hoping someone can give me some more information. I know he had some medals for what I do not know. My dad is in the middle row far right, he was more commonly know as 'Ted'. He is on the right hand side of both pictures, if anybody has any information it would be greatly appreciated and I can be contacted at the link below.
---
----- Original Message -----
From: Michael Warr and Jean McIver
To: Jack Valenti
Sent: Saturday, February 24, 2001 11:05 AM
Subject: Re: LRDG
Hi Jack and Scott,
I think I would prefer reciprocal links, at least in the meantime. I know I am going to find out a lot more about these photographs and want to add the information as I get it. I feel that the information I have is a bit sketchy at the moment. But I am open to you having them on your site as well. The only proviso to that is a mention is made that I am looking for information about my Uncle's escape from Stalag VIIIa, and his subsequent death and burial site.
I would strongly suggest that if you can get hold of the Kiwi Scorpions, every name of every New Zealander of the LRDG is here. But you are welcome to use any names that I have mentioned (or at least that my Uncle Les mentioned) on his photographs. I started to make a list, but I decided he had taken photos of a large number of people, and I haven't finished it. Think you are doing a great job with your site, and I visit regularly.
Regards,
Jean McIver and Michael Warr
Parapara, New Zealand
Mailto: mcwarr@orcon.net.nz
Home Page: http://mcwarr.orcon.net.nz
Creative Fibre site: http://www.creativefibre.org.nz

Leslie Angus McIver
Trooper 37404
Long Range Desert Patrol
New Zealand Armoured Corps
---
----- Original Message -----
From: Craig Cable <mailto:craig@scable27.freeserve.co.uk>
To: lrdg@prodigy.net <mailto:lrdg@prodigy.net>
Sent: Friday, February 02, 2001 1:26 PM
Dear Jack,
Hello again I dont know if you remember me but I wrote to you a while back regarding my late grandfather Ernest Charles Marshall from Portsmouth England. He was in the intelligence Corp and according to my mother may have worked with the LRDG between 41-43 before he went to Baghdad...can you please print this picture and see if anyone knows him many thanks craig
P.S If anyone has any info I would love to hear from them at craig4235@hotmail.com
---
Photos below from LRDG member Harry Moore's son Alan Moore when he was living in San Jose. Harry Moore was in the LRDG - Light Repair Section (L.R.S.) whom had the responsibility of maintaining and rebuilding the LRDG Trucks when they came in from patrol. Last photo: Cairo Leave, Harry Moore on far left with 3 friends on River Boat Thebes.
---
----- Original Message -----
From: John Brown <mailto:john@kate43.fsnet.co.uk>
To: lrdg@prodigy.net <mailto:lrdg@prodigy.net>
Sent: Sunday, August 27, 2000 10:41 AM
Subject: My Dad
Dear Jack
Could you please get someone to authenticate this photo for me. It is my farther (leaning on the front of the lorry) and two others not known. I know it was taken In North Africa when he was in the LRDG. None of my family can remember how the photo came to be in our possetion.If you can help it would be greatly appreciated.
Regards John Brown.
---
Picture and operations log from David Taylor (England)
David's father "Daniel Evan Davies" was a member of Y1 patrol.
'Bob' Davies as he was known joined the LRDG in March 1942 from the North Somerset Yeomanry which was then stationed at Acre in Palestine. He was interviewed by Capt. David Lloyd Owen and accepted for service in 'Y' Patrol. Bob became a driver and took part in all of 'Y1' Patrol's trips until the end of the war in the desert.
---
Can anyone identify these LRDG unit members? See note below.
Dear Jack,
I have attached some photographs which belonged to my late great-uncle; Alfred (Alf) Boys who was with the LRDG for a time. All but one I printed from glass plate negatives. I do not know who the people are in the photographs as Alf was unable to remember when I asked him about them. This unfortunately was due to Alzheimer's disease. I live in Wellington, New Zealand, as did Alf. Alf served in Greece, Crete and Italy before returning to New Zealand to instruct new tank crews. I hope you find them interesting and maybe someone can identify the soldiers in them. I know little of Alf's service with the LRDG, apart from that he came from NZ Div. Cavalry. If you know anything about any of these photos, could you send me a message?
Regards, Mark Cousins (jenny.mark@paradise.net.nz)
---
A series of photo's that I received in the mail from Ronald Stevens - who lives in Joshua Tree, Ca. He contacted me on the internet - saw the web page.
---
Carlos lives in Portugal.
---
Dear Jack,
Thanks for you reply re- the film " Sea of Sand". I must say your groups Chevy looks very authentic and all the hard work you guys put into it has paid off. I have a friend here ( Vic Phillips ) who is a WW2 veteran . He has a 1940 Chev LRDG replica truck . Vic used a C15 Canadian 4X2 front axle in order to obtain the correct wheel stud pattern. Vic lives in a isolated area of N.S.W. and has to battle to find any parts for his trucks. He was a army driver working on the North/ South road during WW2 , his unit (engineers ) did much of the road building in very harsh conditions. He is 79 now but still turns up to the Corowa military vehicle rally each year. We hope to have the desert Chev at Corowa next year but he lives about 400 miles from me. I hope you like the 2 attached pics of 40 model desert Chevs . More soon from mike.
Kelly (vk3cz@sympac.com.au)
---
Photo from Brendan O'Carrol (Auckland, New Zealand) whom is writing a book about the LRDG. Photo is NZ LRDG patrol member with Lewis gun (we think this is Brendan). See additional equipment photos he sent under the Equipment Photo Gallery.
---
Two historical LRDG photos from Brendan O'Carroll and one from the 1996 NZ LRDG reunion.
---