General Information:
LRDG Society Mission (this page)
Newsletter (this page)
Trooper Section Bio's
WWII LRDG History (text)
Reference Materials (text)
LRDG Tool Box (how to do's)
Newsletter Back Issues (text)
Books for Sale & Membership Info
In Memory Of
---
British Section:
Desert Raiders - British Section
Newsletters in PDF format
November 2006 (Issue)
---
PHOTO GALLERY:
WWII LRDG units in the field
Trooper Album
LRDG Vets and Relatives
Vintage Equipment & Gear
New Photos
Radio Truck under Construction

Recent Shows, Meets, Displays
Vintage Cartoons & Show Awards
Early Truck Construction Pics
Modern Desert Units
Modelers Section
War & Peace Show 2010
2007 War & Peace, England
---
VIDEO GALLERY:
Killing Rommel Video
(requires QuickTime)
Killing Rommel Video
(YouTube version)
---
GUEST BOOK:
Sign the LRDG Guest Book!!
View the Guest Book
View Guest Book ARCHIVE
---
LRDG Links Page!
Drop Jack a note if you want to trade links related to LRDG, WWII, living history, etc.
---
Again available in the U.S. "Kiwi Scorpion" the first work of noted LRDG author Brendan O'Carroll has been republished in an extremely limited quantity. Originally published in 2000 this 2nd printing is the same as the original with errors corrected and new information included. The chapter on "The Assault on Levita" has been rewritten with more details.
Do not miss this opportunity to get one now. I have limited quantities on hand for immediate shipment.
LRDG Preservation Society price of only $79.95 plus postage (US only). Send email to lrdg@Prodigy.net to get a copy.
---

New Book: Barce Raid.
Available for $48.00 Post paid within the U.S. See Jack's book review!
---
WWII Music:
The song "Lili Marlene" was very popular with Germans soldiers during WWII, but not liked by official Germany. "Lili Marlene" was also popular with allied forces in all theaters of the war, but frustrated Brit officers when their troops sung the German version.
Song clip "Lili Marlene", German and English versions (Requires RealPlayer)
---
EMAIL CONTACT:
Send questions, comments, suggestions and information to Jack Valenti at the LRDG Preservation Society email address: LRDG@prodigy.net
---
LRDG Facebook Site:
Come visit and join our new Facebook group called: "Long Range Desert Group (LRDG) Preservation Society" (link: http://www.facebook.com/home.php?#/group.php?gid=156542796560). If it works out OK we'll keep it going. Let Jack know if it's useful.
---

Hits as of June 2009

LRDG site designed using:

---
Mission Statement of the LRDG Preservation Society: To learn as much as possible about the unit, the men in it and the equipment and tactics they used. Then to share that information with all whom wish to learn. To that end this group has built a replica of a classic WWII LRDG truck (1942 Canadian Chevy, right hand drive, India format) and outfitted it with "historically correct" military equipment, gear, provisions, and uniforms. The vehicle was built by Rick Butler in Yreka California from several vintage trucks and parts from around the world. Converting a left hand drive vehicle to right hand drive was one of many challenges.
The LRDG Preservation Society is the inspiration of Jack Valenti who is the chief historian, coordinator of equipment and artifact procurement and show organizer. The truck is displayed several times a year throughout the California, Nevada, Oregon and Washington areas and staffed by "LRDG clad" volunteers. This is a non-profit organization that survives through its volunteers whom donate equipment, historical information, time and money. Our society includes LRDG enthusiasts from countries like England, Canada, New Zealand, Australia, Portugal, South Africa and more. The only requirement for membership is an interest in history, get on the mailing list and maybe an official LRDG T-shirt! For more information contact Jack at his email address: lrdg@prodigy.net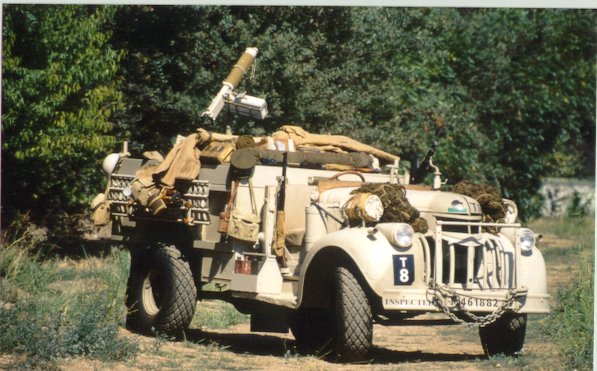 WWII LRDG truck (1942 Canadian Chevy, right hand drive, India format)
---
Check out the 2! New AAR to the left

New Model review! Check the Modelers Section to the left

---
LRDG Newsletter

Dec 3rd 2013

Well before I start into next's year's schedule, I would like to mention several new books that have been recently relisted.

The first is titled "Swastika over the Aegean" it is a photographic record of events that occurred in and around the Dodecanese Islands in the autumn of 1943. Those events resulted in the last decisive German victory of the Second World War. The British & Dominion forces and their new Italian allies were subjected to a resounding defeat; the 234 Infantry Brigade ceased to exist and key Aegean islands remained under German occupation until the final Allied victory.

The Eastern Aegean was the setting for a series of German air-sea landings, something not normally associated with the Wehrmacht. German infantry carried out beach assaults and, unusually, Fallschirmjäger were deployed in their intended role as paratroopers, more than two years after sustaining frightful losses in Crete. Both sides relied on air and naval forces, as well as conventional and unconventional ground forces. German paratroopers were drawn from the Luftwaffe and Division Brandenburg; the latter also fielded coastal raiders and assault troops. The Allies had on call a battalion of The Parachute Regiment, several infantry battalions, and Raiding Forces, which included the Long Range Desert Group, Special Boat Squadron, Commandos and Ieros Lohos (Greek Sacred Squadron).

This limited edition book is published in commemoration of the 70th anniversary of the battle for the Dodecanese and features more than 500 images including; rare wartime documents, some 350 wartime photographs, and color photographs of the islands today.

The author is Anthony Rogers, who is no neophyte to the battles in the Dodecanese Islands, his first book was the well received "Churchill's Folly' published in 2003.
Available at…toro.enquiries@gmail.com……………….for €29.99 Euros. Plus postage

The second is about earlier desert activities during WW I. The title is "The Light Car Patrol 1916-19 ". Based on Captain Claud Williams' memoir he tells, first-hand, what it was like to be a Light Car Patrol commander during the First World War, while Russell McGuirk's commentary provides the historical background to the formation of the Patrols and follows their activities from the British raid on Siwa Oasis to desert exploration and survey work and the Kufra Reconnaissance Scheme. Lavishly illustrated with original photographs from Light Car officers, this combined memoir and history provides a fascinating and informative picture of an unsung hero of the desert – the Model T Ford.

This title is available from Amazon at $34.19.
Also in case you didn't know it the "LRDG" has made the big time, as there is now a "Lego" version.
I also have a new supply of LRDG & New Zealand shoulder flashes available for $15.00 per set plus $1.00 Postage in the U.S.
Now for next year's events: as you can see there are a number of events both in Southern California and in Central California. Here's hoping that you will take the opportunity to join us at one of these events. You can always e-mail me at lrdg@Prodigy.net for the latest update on any event.
March - TBA – CHG Desert Battle – California City S & T Patrols http://www.chgww2.net/events/

<![if !supportLists]> <![endif]>April 11th – Pacific Grove Good Old Days Parade T- Patrol http://www.seemonterey.com/events/community/good-old-days/

<![if !supportLists]> <![endif]>April 23rd – 27th – MVCC "Camp Delta" – Tower Park, Lodi, Ca. I have reserved three camp sites and there should be plenty of room all of us. T - Patrol http://www.mvccnews.net/

<![if !supportLists]> <![endif]>May 2nd – 4th - Planes of Fame – Chino – S & Y – Patrols http://planesoffame.org/index.php?page=2013_calendar

<![if !supportLists]> <![endif]>May 9th – 10th - West Coast Military Collectors Show; Pomona, Ca Fairgrounds – Y Patrol http://www.militariashow.com/index.html

<![if !supportLists]> <![endif]>May 16th – 18th – Overland Expo – Flagstaff, Az. (Maybe – they invited us last year and may do so again. http://www.overlandexpo.com/

<![if !supportLists]> <![endif]>May 24th -25th – Hollister Air Show – T-12 Jeep http://www.hollisterairshow.com/

<![if !supportLists]> <![endif]>May 26th – Arcadia Park Memorial Event – Y-Patrol

<![if !supportLists]> <![endif]>May 31st – June 1st – Castroville Artichoke Festival Parade? T–12 Jeep http://www.artichoke-festival.org/index.html

July 4th – Monterey Parade – T-12 Jeep

<![if !supportLists]> <![endif]>July 5th – or 6th - Seaside Parade of Champions. T-12 Jeep

<![if !supportLists]> <![endif]>July 12th – 14th – 100th Anniversary of Ft. MacArthur - S & Y Patrol http://www.ftmac.org/

<![if !supportLists]> <![endif]>July 16th – 20th – War & Peace Show –As a spectator, more info later. http://www.thewarandpeacerevival.co.uk/index.php?option=com_content&task=blogsection&id=2&Itemid=88889003

<![if !supportLists]> <![endif]>Aug. 9th – 1940's Event San Jose, Ca. – T-12 Jeep

<![if !supportLists]> <![endif]>Aug. 16th – Pacific Grove Concourse – T-12 Jeep http://www.pgautorally.org/

<![if !supportLists]> <![endif]>Sept. 13th – 17th – Monterey, Ca. Cherries Jubilee - T-Patrol http://www.cherrysjubilee.org/information_friends.html

<![if !supportLists]> <![endif]>Sept 28th - War Birds over Paso Robles – T-12 Jeep http://www.ewarbirds.org/airshow/index.html

Nov. 11th – Veterans Day Parade Salinas – T-12 Jeep
One last thing; I (we) would like to wish all of you a Merry Christmas and a Happy & Prosperous New Year.

Thanks for your support.

Jack, Kim, Rick and all of the members of the LRDG Preservation Society



---

Tail end of a Sandstorm - WWII North Africa LRDG unit
Photo above is from WWII LRDG vet "Titch Cave" who now lives in South Africa. See more photos from Titch under "WWII LRDG units in the field" section. This is like being in a dust storm on the mars (very fine soot blowing 50mph plus, yellow or reddish haze\fog) that can last for several days. Sometime it will rain mud too. Actually there's a positive in that the fine silt covers everything and kills misquotes, "nature's insecticide".
---